Hotel & Restaurant zum Wolfsjäger
Welcome! Take a look around on our website.
Our family-run hotel is situated in the southern Munster region, in the centre of Herbern. Now in the fourth generation, we ensure that you feel good all around.
Be our guest and enjoy pleasant hours with your family, friends or business partners.
from 08:00 until 11.30 h and

from 16:00 until 21.00 h
Friday to Sunday, Holidays:
Family-run hotel and restaurant in the fourth generation.
We serve food of highest quality, simple and straightforward. With the combination of regional products and recipes with ingredients and influences from all over the world we create a tension between innovation and tradition, and between regionality and internationality.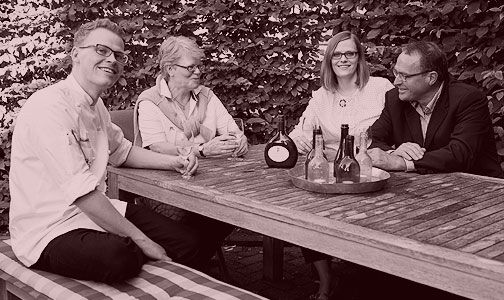 Be our guest and enjoy our culinary Westphalian specialties as well as our friendly family service!
In winter 1834/1835, a wolf was up to mischief in the forests around Herbern. On the January 19th, 1835, they organized a hunt and offered 10 thalers as a reward for the one who killed the wolf. The wolf was flushed quickly and several shots were fired.
Besides a Merveldt hunter, also Josef Hennemann, innkeeper and merchant from Herbern, pointed his gun at the troublemaker. Who really hunted down the wolf near the farmstead Lümke?
In order to bestow the hunting honour on the rightful owner, they examined the animal. After lengthy disputes it was clear that Josef Hennemann was the real "wolf hunter". Today, you can still see the last wolf from Westphalia in the Museum of Natural History in Munster.
In his honour, they made a memorial stone in the farming community Horn in 1935 as well as a bronze statue at Westerteich in Herbern in 2013.
"Sleep is to a man what winding up is to a clock."
Anton Schopenhauer
Our hotel
Treat yourself to a break from everyday life – in our beautiful, family-run hotel!
No matter if it was for private and business guests, for longer stays or a short stopover – our hotel is the ideal place to unwind, relax, stay but also to work. You will immediately enjoy the warm and familiar atmosphere.
You can choose between 17 rooms, all of them with shower, WC, telephone, TV and W-LAN. We also provide you a bottle of mineral water for refreshment.
The beautiful Münsterland with its picturesque nature and many leisure activities invites you for a visit!
Our family business has already been connected to this region for many generations. It wants to show its visitors the peculiarity and beauty of the Münsterland.
For our Westphalian specialties, we only use ingredients from regional partners that we have known for many years.